GEMARIKAN (Fish Eating Movement) Campaign, Encouraging Women to Increase Household Protein Consumption
FAO in close collaboration with Provincial Fisheries and Marine Affairs office (DKP) of NTT held a campaign on Fish Eating Movement on last April in Naukae Village, TTS District. GEMARIKAN (in Bahasa Indonesia: Gerakan Gemar Makan Ikan) aims to increase community awareness on the benefits of fish for alternative source of good protein besides meat and other proteinaceous food. Currently, fish consumption rate in NTT Province is 20 kg/year/person which is quite lower than in many other provinces where it is around 30 kg/year/person in Indonesia.
Some 300 people including elementary school pupils and teachers, housewives, pregnant women, government officials, and loca NGO were involved in the activity. The campaign facilitators of Training of Trainers (TOT) Post-Harvest alumni explained about the benefits of fish consumption and how to select good quality fish to the attendees. For good organization and effective communication, the activity was divided into two target groups, the children (school pupil) and adult. The children were so amused by the way the facilitators enlightened them about the benefits of fishprotein consumption for human brain development. There were also ready to consume product samples made available to the children in the event. Moreover, the activity also included food processing learning for making fish processed products and cooking session where the adult group of mostly housewives and ladies excitedly took part and benefited from the learning. It is hoped that they will be able to serve their families with various healthy fish processed food such as meatball, shredded fish, dried fish etc.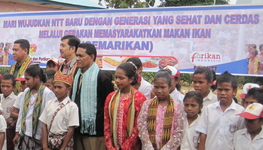 Ferdy J. Kapitan, Department Head of Provincial Fisheries and Marine Affairs appreciated the enthusiasm of the community who participated in the flourishing campaign and remarked, "We should continuously support this good effort to decrease low nutrition intake in NTT Province where one critical issue is poor fish protein consumption. Compared to last year activity, today's campaign is much better involving not only adult but also children. Women involvement in this activity is very important. When we invest good knowledge to the mothers and housewives, they will translate it into better nutritious and healthy food served to their families, primarily to our beloved children. So, we can get double benefit - now and next generation".
"It is a valuable knowledge for me. Now I understand about many of fish consumption benefits and fish processed products. I become more aware that bad quality fish gives you only less nutrition", commented Aprioro Nenabu, an elementary school teacher. Aksamia Abanat, another teacher of junior high school said, "I havediscussed with other teachers about a program to increase the student and parentawareness of the importance of fish protein nutrition for human brain development that may be funded by the government through social and operational aid program forschool. The GEMARIKAN is a good campaign example, we will adopt it into our school program". During the campaign, some awareness materials such as fish eating and fish food processing booklets, posters and stickers were distributed.
Reporting officer:
Akhmad Rikhun, National Consultant for Fisheries Post-Harvest & Marketing.
Sumber : http://coin.fao.org/cms/world/indonesia/en/MediaCenter/FactSheets/Fisheries/GEMARIKANCampaign.html